They say the home is where the heart is, but many people also would say the kitchen is the heart of the home. The place where old traditions meet new traditions, and where the start of a wonderful family memory begins. And with the holidays season right around the corner breaking way to that said family time, what a better time to spruce up your kitchen to set the mood you want to inspire during this time.
But wait. With the holiday approaching isn't this the worst possible time to start any sort of kitchen renovation. Between budget and time restraints ahead, this sounds like a recipe for disaster! On a larger scale, you would likely be right. But there is plenty of time, along with budget friendly ideas to start working on the kitchen you have been dreaming of.
THE LOOK – CLASSIC CHIC MEETS MODERN CHEF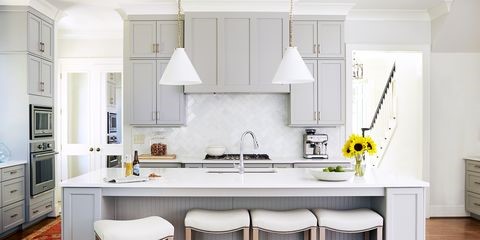 Getting this look may be much easier than you think. Starting your reno off with a classic and airy color scheme (we love the clean and classic look Pearl River by Benjamin Moore accomplishes) for the walls. Compound that with a shade or two darker for your cabinets. Now, I know what you are thinking – cabinets are expensive! And often must be fitted…Both time and budget consuming. But, consider buying new cabinet doors and hardware instead of a total overhaul. Then using the paint color of your choice, and a little handywork, your cabinets will have a facelift you never thought possible.
The next step is to focus on the lighting – pendant lights can provide a modern feel to a room, while keeping it classic and simple – while providing the chef with ample lighting. Check out Pottery Barn's Custom Vintage Glass Cord Pendant lights. Throw some soft white LED bulbs in, and your space will be aglow. Throw in some new sink hardware – yes, time to say goodbye to those low to the counter faucet spouts and move into the age of the elegant arches.
With these 4 minor renovations, your kitchen is taking on a new life!
THE LOOK – FUNKY BAKER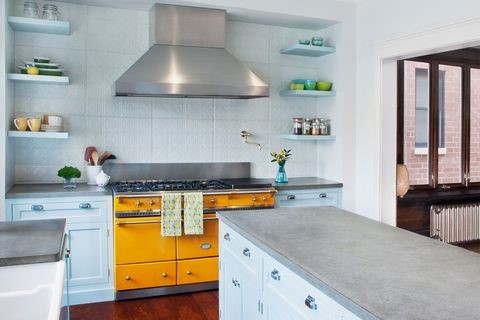 Did someone say color? The first step toward getting this renovated look is all in the color. Whether it be the countertops, cabinets, or walls the color speaks volumes. I adore a 2019 hit, Tangerine Surprise, a color palette designed by Bridgett Mazer – the color pops are incredible, and I think the deep blue eye popping views are livened up by the jazzy orange glows. To really catch the eye of the enterer, remove a few of those dated cabinet doors and opt for open shelves with bright fiesta ware style dishes.
Moving along to the lighting, we want to give it kind of a light that even a baker covered in a bag of flour, would still feel welcome in. My hands down favorite are the exposed wire pendant lights – Available in an array of colors and prints, these fun lights can be strung at different lengths, letting the wires swoop and loop to your funky hearts delight. Throw in some vintage hardware for those drawers and ant cabinets still intact, and boom – time to get those cupcakes in the oven!